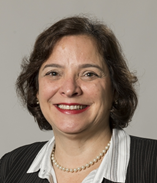 Ana Maria Marques da Silva is a Full Professor of Physics at the Pontifical Catholic University of Rio Grande do Sul (PUCRS) and investigator at the Brain Institute of Rio Grande do Sul (InsCer), in Porto Alegre, Brazil. Since 2013, she coordinates the Medical Physics Residency Program at the university Hospital São Lucas, PUCRS. Previously, from 2006-2017, she was the Dean of the Faculty of Physics at PUCRS. She lectures on various topics in nuclear medicine physics, radiation protection, medical image processing and biomedical instrumentation.
She received her PhD in Nuclear Physics, from the University of São Paulo, Brazil, in 1998. Her PhD thesis was related to quantitative tomographic reconstruction in nuclear medicine. Since 2002, she is the leader of the Medical Imaging Laboratory, installed at PUCRS Technological Park (TECNOPUC). She has been acting as coordinator or team member in pre-clinical and clinical R&D projects in collaboration with healthcare companies and hospitals. She has been enrolled in IAEA technical cooperation national projects related to capacity building in nuclear medicine. She has supervised 25 master and PhD students, and has more than 45 papers published. Her research interests include: nuclear medicine and molecular imaging acquisition, processing and quantification; medical image processing and analysis; SPECT and PET image-based dosimetry; and Monte Carlo simulations in emission computed tomography.
She leads the Medical Physics committee of the Brazilian Society of Physics (SBF) and is an active member of Brazilian Medical Physics Association (ABFM). Since 2015 she is the editor in chief of the Brazilian Journal of Medical Physics.