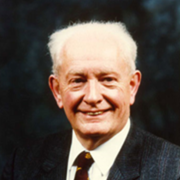 With great sadness we report the passing of Professor John Mallard, a doyen of medical physics.
Professor Mallard is the Founder President of the International Union of Physical and Engineering Sciences in Medicine (IUPESM). He is also a founder Secretary General of the IOMP and later on its President.
Professor Mallard died peacefully at the age of 94 earlier this week with his family around him.
He was a Professor of Medical Physics at the University of Aberdeen from 1965 until his retirement in 1992. He was internationally renowned for his pioneering work in the field of medical imaging as well as for his many contributions to the profession.